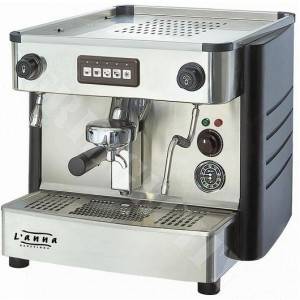 The L'ANNA Line offers the basic features of a traditional machine at an affordable price. We offer the single group version of this machine as either a standard "plumbed-in" model (with tall group height) or a portable "pourover" model (with standard group height). The "pourover" version has a built in water reservoir and does not require a water supply to operate, allowing for maximum portability without sacrificing production capacity or espresso quality. Comes standard with black side panels, stainless steel body, and steam valves with rotating knobs.
Specifications
Programmable Electronic Volumetric dosage (four different doses and continuous)
Large 6L boiler
Steam outlet pipe in stainless steel.
Pump and motor built in.
Programmable hot water outlet from CPU.
Hot water outlet anti-splash.
Heating element protector device built-in.
Automatic water fill up of the boiler
Easy location of the boiler drain-out tap.
Starter relay 25A built-in.
Available in traditional and raised group heads.